Role of Surgery in Cancer Treatment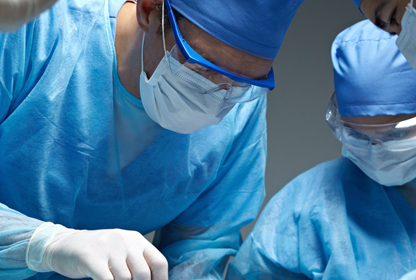 Cancer surgery / Onco Surgery / Surgical Oncology is an important part of cancer treatment. It is basically extirpation of tumor along with margins and draining lymph nodes.
It the main treatment for early-stage cancer, be it Breast, Oral (mouth), thyroid, Gastrointestinal or Gynecological cancers. Majority of times, the cancer can be adequately controlled with surgery and patient is not subjected to chemotherapy and / or radiation. The mutilation, morbidity and loss function is minimal at early stages. Surgery can also be done by minimally invasive or robotic means.
Role of Surgery in Advanced Cancers
Role of Surgery in Metastatic Disease
Oncoplastic Breast Conservation surgery
Role of Surgery in Advanced Cancers
In Advanced stages especially when tumor size is large and lymph nodal involvement is present, surgery is generally performed after neo adjuvant therapy i.e., patient is given few cycles of chemotherapy to control the disease spread and this helps the treating team to understand the disease biology. Patients who respond to Neo adjuvant therapy have better prognosis. This especially holds true for breast, ovary, oropharyngeal, stomach, para nasal sinuses and esophageal cancers.
Role of Surgery in Metastatic Disease
Oncoplastic Breast Conservation surgery
AOHC Advanced Breast Cancer Program
If you have been diagnosed with breast cancer and are considering surgery, you should speak with your doctor about all your options, including OBCS. While OBCS may not be right for every patient, it may be an option worth considering if you would like to preserve the appearance of your breasts following surgery.
Salvage surgery for Oral/Oropharyngeal/Laryngeal Cancers
HIPEC surgery
Palliative surgery
Cryoablation
Salvage surgery for Oral/Oropharyngeal/Laryngeal Cancers
A large majority the above mentioned Head Neck Cancer recur or remain in the primary site or on the draining lymph nodes, distant metastasis may not occur or occur in the later course of disease. For e.g., oral(mouth) cancer coming back at the primary site, residual or preserved bone, Infratemporal fossa or skull base or laryngeal or Oropharyngeal cancers remaining after being treated by radiation or chemoradiation. Salvage surgery is performing radical compartmental excision with reconstruction for such situations for e.g. Composite bite resection with ITF clearance for buccal cancer recurrences, Laryngopharangectomy for post RT laryngeal cancers; compartmental glossectomy for recurrent tongue especially base of tongue cancers.

Patients should talk to their doctor about all treatment options before deciding on salvage surgery. The decision to undergo salvage surgery should be made carefully, as it is a major procedure with significant risks. Recovery from salvage surgery can be long and difficult, but many patients are able to return to a good quality of life after treatment. Our study suggests more than 60% disease control after 2yrs in oral cavity salvage.
HIPEC surgery
Palliative surgery
Cryoablation